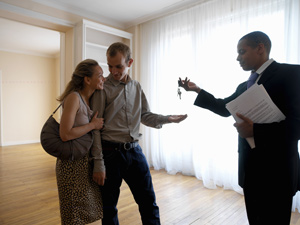 This is a continuation of last month's blog post in which I chronicled my apartment hunting experience from a tenant's prospective.  This month, I focus on what I felt landlords and leasing agents could improve.
PRICING
San Francisco is under rent control, so it is in a landlord's best interest to rent an apartment for the maximum the market will command.  However, you still have to factor in the loss created by an apartment that sits vacant for weeks while you are trying to get top dollar rent.
I saw many apartments that were vacant and overpriced.  I continued to see the same ads week after week for the same apartment at the same astronomical price.  As I mentioned in my previous post, tenants become experts on pricing and aren't going to pay more for an apartment than they can pay for a comparable apartment.
If you are asking $2,500 for an apartment and it stays vacant for a month, that is $2,500 which wasn't put in your pocket.  If, after a month of marketing, a tenant eventually signs a year lease at $2,400, you will not have lost $100 per month.  You will have already lost up to $2,400 because appropriate pricing initially would have gotten the apartment rented sooner and money in your pocket right away.
Even when you factor in rent controlled increases on $2,500 vs. $2,400, over a five-year tenancy you will never come out ahead.
REMODELS AND UPGRADES
Because San Francisco is under rent control, it is very difficult to increase rent once a tenant is in occupancy.  So I always recommend my clients fix up a unit before the tenants move in.  This doesn't always mean a full kitchen remodel, but generally means a paint job and updating some fixtures.
For example, a $20,000 kitchen remodel on a one-bedroom apartment in the Sunset that will rent for $1,800 without the upgrade and maybe $2000 with it, doesn't make sense because it would take 100 months to recoup the remodel cost.  However, minor improvements that may push the rent up to $1,900 will be worth it.
In a case where an apartment is in a highly desirable neighborhood and remodeling the kitchen could increase the rent by $1,000 per month, a remodel may make sense.
Then there are the remodels that don't ever make sense.
I looked at a Nob Hill one-bedroom apartment advertised for $2,395 per month.  It was very cute and on a nice street.  However, the bedroom wasn't wide or long enough for a queen-sized bed.  When I mentioned this to the listing agent, she said that the apartment was previously a studio and they had just constructed a wall to make it a one-bedroom.  Given that the apartment is less functional as a one bedroom, and wasn't priced well when compared to more functional one-bedrooms, the apartment sat vacant while they waited to find a tenant who didn't mind the small bedroom.  This led to lost rents.  Therefore, they may not make up the rent they could have gotten had they rented the apartment much quicker as a large studio.
I also looked at a building that had been fully reconstructed due to a recent fire.  The units were beautiful, but completely impractical.  Most had no closets at all.  They were asking top-dollar rents compared to older places of similar size because all the finishes were new.  The apartments did not rent quickly.
If you have the unfortunate opportunity (in this case, a fire) to have to completely reconstruct a unit, please take your tenants needs into account.  A lot of times, it is not the most beautiful finishes they are looking for, but rather functionality such as the flow of the apartment, closet space, location of electrical and cable outlets, and natural light.
Also, landlords should keep in mind that the most desirable amenity in San Francisco right now is hardwood floors.  Tenants love hardwood floors.  They are easier to maintain and are about the same price as new carpet.  Most older buildings even have hardwood floors covered by carpet.  They are more eco-friendly and, most of all, tenants will pay more for a unit with hardwood floors.
I recently had an apartment on the market that had carpets.  It was a great apartment, but not in the most desirable neighborhood. I was having trouble renting it.  I suggested the owner  remove the carpet and show the hardwood floors beneath.  I retook photos for the ad and had my phone ringing off the hook.  I was even able to raise the rent by $100. The only cost to the owner was paying to have the carpet removed and disposed of.   He didn't even have to refinish the floors as the carpet had protected them over the years and the tenants were very happy with the condition.
In conclusion, as a landlord always be thinking, "How can I maximize the money in my pocket?"  Many times, this doesn't necessarily mean trying to get the highest rent for a vacant apartment, or making the most extravagant improvements, or conversely, not making any improvements at all.  It is a fine dance that us landlords are required to do and it takes some time to perfect.
The most important part of renting an apartment regardless of the cost or improvements is to get a tenant who is happy, responsible and will be an asset to your investment.