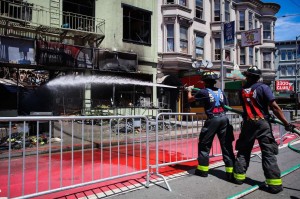 First off, I would like to thank everyone who reached out regarding the fire at Mission and 29th Streets on Saturday, June 18. Thankfully, my building and business were on different blocks, but my heart goes out to the businesses and residents who were displaced by the fire. No one was hurt in the fire. However, there is a scar in our neighborhood now that acts as a reminder of how precious our lives and investments are, and we need to proactively act to save them.
I recently sent out a postcard to all my property management clients' tenants reminding them of simple things they can do to prevent fires and respond in an emergency, like calling 9-1-1 should they smell gas, reporting any outlets or appliances that may be hazardous, and reminding them to not remove their carbon monoxide and smoke detectors.
If you are not a permanent property management client, but would like a copy of the post card to send to your tenants, please let me know.
A couple things you can do to protect your building
Make sure all your fire extinguishers are up-to-date on their annual recharge. Make sure they are clearly marked for tenants to find.
When doing maintenance on an apartment, or have a vacancy, test the smoke/CO alarm and replace the batteries. There should be one in each bedroom, hallway, and kitchen.
Make sure your building insurance is up-to-date and will cover the full replacement value of your investment.
One last line of protection, apartment sprinkler systems, may become more significant in the future as a grassroots effort by housing advocates is currently pushing the Board of Supervisors to draft legislation requiring sprinkler systems in apartment buildings, much as certain buildings were recently mandated to perform seismic retrofit upgrades. See the article here.
Do sprinkler systems work? And are they worth the cost? One local firefighter I spoke with said, "sprinklers are 98% effective," and that they would put him out of work. That's a stellar endorsement, especially when what could end up being saved is a life.
I don't encourage all my clients to run out and install sprinklers. However, if making significant improvements to a property, consider installing a sprinkler system in your building. Though costly, the return in property and lives saved is immeasurable. In addition, the cost could be passed through to tenants in the form of a Capital Improvement Petition.
Also, if the chatter about drafting legislation requiring sprinkler systems becomes louder, I would encourage my clients to consider installing them before the legislation is passed to avoid the inevitable markups by contractors who will see the mandate as an opportunity to increase prices.
Best,
Natalie