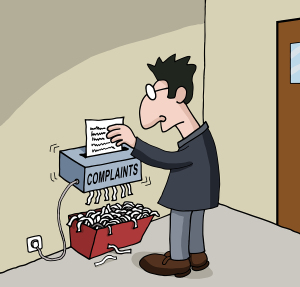 Dear Landlords:
Understanding what matters most to tenants will ensure you have content tenants, who will not move immediately following their initial lease term and pay the maximum rent your unit warrants. This will cut down vacancy times and turn over costs, which will add to your bottom line. Sometimes investing in a building and unit improvements isn't just a matter of generating more rent, but also of having happy tenants who stay awhile.
HotPads, a commonly used rental search platform widely used by San Francisco tenants, recently conducted a survey of renter's regrets.
I have outlined their top ten findings, and offered advice for combating these tenant objections.
While some items are out of your control as a landlord, many can be addressed, and should certainly be considered when purchasing or upgrading a property.
To read the full survey, click here.
1) Monthly Cost: While it is in a landlord's best interest to get the maximum rent for their apartment, having a tenant who thinks they are paying too much for what you offer will inevitably lead to vacancies as they move on to less expensive apartments or opt to pay the same amount or more for increased amenities. Consider tenant's options when raising rents to prevent them from moving on. If you raise the rent above market value, a tenant will move, leaving you with vacancy times and turnover costs.
2) Noise: While you may not be able to move your building away from a busy street or fire house, when looking to buy a property, take these things into consideration. Walk through the potential building as if you were a renter and think "why would I NOT want to live here?" If you find you have your own objections, chances are the tenants will as well. That will translate into longer vacancy times and lower rents. If you already own a building where noise is a problem, consider installing double-paned windows, insulation, and sound proofing in between floors.
3) Safety: When purchasing a building, consider the safety of the neighborhood you are considering. If you already own a building, consider new locks, security gates and security cameras.
4) Condition: Always put your best foot forward. Update units as needed to prevent costly repairs and renovations. By keeping units in shape, you ensure you get the most rent possible from the start of a tenancy and avoid the hassle of having to perform upgrades when a tenant is in occupancy.
5) In-Unit Laundry: This is a fairly inexpensive upgrade if you have the space and tenants love it. With machines getting smaller, the footprint of the area needed for in-unit laundry facilities is shrinking. Consider adding machines next to existing plumbing such as a bathroom or kitchen to keep costs low.
6) Size: Again, consider the size of individual apartments when you are analyzing a potential purchase. If you already have a building, there isn't much you can do to change the size of an apartment, but make sure the layout is the best use of the space and make changes as needed.
7) Parking: Again consider whether or not there is parking when purchasing a building. See if it is possible to add parking to your building. If not, be sure to have a list of third- party vendors where tenants can rent parking nearby.
8) Air Conditioning: Consider yourself lucky if you own a building in San Francisco! We have natural air conditioning: Karl, the fog!
9) Proximity to Neighbors: Again, in a big city, such as San Francisco, consider yourself lucky. City-dwellers expect to be in close proximity to their neighbors.
10) Design Features: Keep apartments up-to-date by remodeling apartments as needed to prevent them from getting too dated. You don't want to get a vacancy and not be able to compete with new construction and other updated properties, or have to discount the rent to get a lease signed.
Thank you,
Natalie M. Drees
Broker/Owner
Lingsch Realty