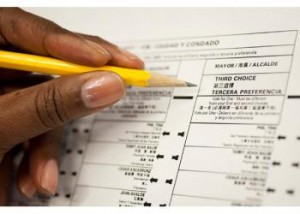 The November 3 ballot is teeming with issues with outcomes that will affect property owners.  While several of the propositions seem worthy of your vote on the surface, digging a little deeper reveals that the result of their passage may not have the intended effects.  See how Lingsch Realty voted below.
Prop A: Affordable Housing Bond (NO)
Prop A would create a fund with up to $310 million for helping people remain in, and move to, San Francisco if they otherwise could not afford to do so.
This is a large bond that will most likely lead to property tax increases. And while honorable in intent, it is flawed.  The bond allows the city to subsidize housing for middle class families that do not need housing assistance and is heavily backed by developers who would rather pass the cost of developing affordable housing to small property owners as opposed to keeping the onus on themselves as it currently is.  Most new developments have a stipulation that the developer reserves part of the development for affordable-housing.  Housing advocates had been talking about going to the ballot with a requirement that 30 percent of all new housing be low income, which would eat into developers' profits.  Developers got them to back off, with a pledge to raise $1 million for the affordable-housing bond.  Let's keep the developers on the hook for affordable housing, while saving small property owners an increase in property taxes.
Prop D: Mission Rock (YES)
San Francisco is in the middle of a housing crisis and Prop D would amend the current Mission Rock plan to accommodate more housing units and more affordable housing.
A "yes" vote on Prop D would increase the proposed maximum height for development from 40 feet to 240 feet.  This would allow for more residences to be built on the space, with at least 33 percent of them reserved for low- and middle-income households.  The plan also calls for restaurants, retail,commercial, production, manufacturing, artist studio, small business and non-profit spaces, 8 acres of parks, open spaces and recreational uses; rehabilitating Pier 48 to historic standards; and creating 3,100 parking spaces, most in an above ground structure.
Prop F: Short-Term Residential Rentals (NO)
Passage of Prop F would:
Cap private short-term rentals at 75 nights a year per unit
Institute provisions to ensure that such rentals are complying with city code and that hotel taxes are being paid.
Require rental hosts to file quarterly guest and revenue reports with the city.
Prohibit the use of "in-laws" (accessory units that were added to a normally single-unit property) for short-term rentals.
Authorize both enforcement by the city and private action lawsuits by "interested parties" or anyone living within 100 feet of those suspected of violating the law.
While Prop F aims to free up more housing for long-term tenants, the proposition is flawed.  It would prohibit homeowners from renting rooms in their own, owner-occupied homes putting an unnecessary restriction on property owners.  It also prohibits the short-term "in-laws," many of which would otherwise sit vacant, and would allow private parties to sue neighbors they suspect are violating the law to collect payouts, with no provisions for plaintiffs to compensate defendants who are charged with frivolous lawsuits.
Prop I: Suspension of Market-Rate Development in the Mission District (NO)
This is perhaps the silliest proposition on the ballot.  Supporters of Prop I are worried about the displacement of longtime residents of the Mission District in this wave of gentrification.  The idea that suppressing new construction in a city with a housing crisis would somehow save long time tenants is flawed.  People with money want to live in the Mission for its character, proximity to the Silicon Valley and great weather.  And they have the money to do so regardless of what the law says.  Those with the means to build new structures, also have the means to acquire existing buildings and displace the tenants, which would become their only option if the moratorium is passed.   I sincerely believe that a building moratorium would lead to more displacement, not less.
Prop J: Legacy Business Historic Preservation Fund (NO)
While the Legacy Business Historic Preservation Fund has an admirable aim (to save businesses of 30 years old or more), there are some flaws in the program as it is written.  1) In order to participate in the program, businesses and landlords must agree to a 10 year lease.  Most San Francisco commercial leases are for three to five years with options to renew in order to better accommodate San Francisco's volatile rental market. With a 10 year lease, a business owner would be tied to a rent amount for 10 years even if rental rates fell significantly.  2) On the landlords' side, the supplemental compensation from the fund is limited to $4.50 per square foot.  While in some neighborhoods, this amount would more than cover increases in rent in booming times, in downtown areas, where the average rent is now $68.73 per square foot, a $4.50 grant isn't going to make much of a difference in a struggling businesses pocketbook.
Prop K: Surplus Public Lands (NO)
San Francisco already has a policy of using real property the City does not need (surplus property) to build affordable housing. If the property is not suitable for housing, it can be sold and the proceeds used to build affordable housing elsewhere in the City. Under the City's policy, affordable housing is housing that is affordable to households earning up to 60% of the area median income.
Among other things, Prop K would:
Expand the allowable uses of surplus property to include building affordable housing for a range of households from those with very low income (homeless and those earning under 20% of the area median income) to those with incomes up to 120% of the area median income;
In surplus property developments with 200 or more units, allow mixed-income projects that include affordable housing for households earning up to 120% of the area median income, housing for middle-income households earning up to 150% of the area median income and housing with no income limitations
These uses would actually lessen the amount of new development for our poorest citizens who need it most, and open up more housing for those with more means.
Don't forget to vote on November 3!