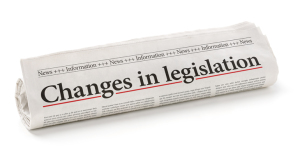 On Jan. 1, 2018, numerous laws relevant to the rental housing industry took effect in California.
In the paragraphs below, we summarize the most significant of these laws for the rental property owners.
1) IMMIGRATION STATUS
Targeting discrimination: Under AB 291, dubbed the Immigrant Tenant Protection Act, a landlord could face civil penalties if he or she attempts to influence a tenant to vacate the dwelling unit or attempts to recover possession of the dwelling unit based on the individual's immigration status.
The legislation, by Assemblyman David Chiu, D-San Francisco, offers protections against eviction for tenants whose landlords demand to see Social Security numbers or other validating documents after the landlord previously approved the tenant for occupancy with or without that information. Moreover, AB 291 would provide previously approved tenants with an automatic defense against unlawful-detainer lawsuits that attribute evictions to a lack of identifying documents demanded by the landlord after the landlord approved the tenant.
2) FLOOD ZONES
Mandatory disclosures to tenants: Under AB 646, by Assemblyman Ash Kalra, D-San Jose, a landlord with "actual knowledge" that his or her property is in a flood-hazard area will have to disclose this information to prospective tenants. Property owners with actual knowledge include those notified by a government agency, as well as owners required to carry flood insurance for the property. Under AB 646, the owner will have to make this disclosure in the rental agreement beginning July 1, 2018.
3) MARIJUANA
Recreational use: Provisions of Proposition 64 regarding the lawful sale and subsequent taxation of recreational marijuana in California go into effect Jan. 1. Legalizing the sale of marijuana for recreational use, however, doesn't impede a property owner's ability to ban the smoking of marijuana on the property. In fact, the proposition expressly allows owners of private property to prohibit any of the actions related to marijuana otherwise permitted by the initiative.
4) AFFORDABLE HOUSING
Holding local governments accountable: AB 678 by Assemblyman Raul Bocanegra, D-San Fernando, and companion bill SB 167 by Sen. Nancy Skinner, D-Berkeley, will add much-needed teeth to California's Housing Accountability Act, financially penalizing local governments that arbitrarily deny housing projects in violation of state law. The Housing Accountability Act requires that local governments follow certain legal mandates before denying housing projects that comply with their general plan and zoning rules. Money generated by fines under these bills will be placed in a housing trust fund for the construction of affordable housing.
Micro apartments: In addition to the housing-accountability bills, Brown signed CAA-sponsored legislation Monday to increase the state's stock of micro apartments. AB 352by Assemblyman Miguel Santiago, D-Los Angeles, will help prevent local governments from establishing roadblocks to "efficiency dwelling units," which usually measure 220 square feet or less. These units are used by some cities to provide housing for university students as well as shelter and services for homeless individuals.
Other noteworthy bills intended to address the housing crisis:
Streamlined approvals: SB 35 by Sen. Scott Wiener, D-San Francisco, will create a streamlined approval process for projects that meet certain standards under the law. Streamlined projects would be approved "by right," meaning they would move forward without a drawn-out review process.
Identifying housing needs: SB 540 by Richard Roth, D-Riverside, will streamline the approval process to spur housing construction by having cities identify where housing needs to be built and adopting specific, up-front plans and conducting all necessary environmental reviews and public engagement.
Fees for affordable housing: SB 2 by Sen. Toni Atkins, D-San Diego, will establish a permanent funding source for affordable housing through a fee of $75 to $225 on recorded documents. The bill, however, exempts residential real-estate sales. The fees will likely generate between $229 million and $258 million annually.
Statewide affordable housing bond: SB 3 by Sen. Jim Beall, D-San Jose, will place a $4 billion statewide affordable housing bond before voters in the November 2018 election.